in japanese





homo caeruleus cerinus LP (ryoku oushoku jinshu): 16+ tracks, 90 min.stereo (1999)
shing02 (vocal), capital (xitar), mr. buckner (bass), dj nozawa (scratches) bring you an eclectic aural collage in this Japanese language lp. just take a listen and you will know. available on 2x cd and 2x vinyl. *all photos courtesy of vaughn hovanessian. copyright 1999
"Homo caeruleus cerinus" literally translates to "green-yellow human." The adjective in Japanese is used for dark vegetable groups. we created this term in hopes of describing a new generation of humans who are more down to earth, and spiritually healthy at the roots.





Homo caeruleus cerinus instrumentals / breaks 2x vinyl (2000)
note: the vinyl instrumentals will carry the raw beats / breaks without the live instruments, and the cd version will include newly recorded and mixed versions of the songs.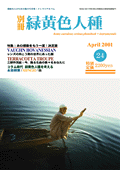 Homo caeruleus cerinus: the photobook feat. Mr.Hovanessian + new instrumental CD, available late Septemer in Japan (2001)

Related Material :
The Little Prince / Ecdysis video (UD/Mary Joy)

home